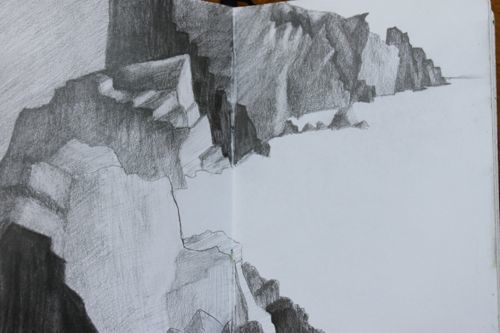 Sketch from the Coast of Cornwall
Last month I went to England to do a proformance in Cambridge and give a workshop on how to create pictures with words. It was fun and very exciting, and mixed up with a long hike in Cornwall as I wrote previously.
This month I am going to Austria to visit my relatives who live in Vienna and Salzburg, all due to the mutual wish of my father and sister to visit Austria, now they both are turning a corner, 70 and 40 years! It started of as a short holiday, where we hoped to connect with my father's cousins and their children. After some e-mailing we found them.
I had hoped they would meet up with us for lunch on Saturday. Bearing in mind that I have never seen them in my life, yet alone spoken with them, meeting them would be a succes. My sister has seen them once, and my father has not had contact with them for decades. The years just slipped by.
So I thought, if they would set an afternoon aside to meet with acutal strangers, related distantly
by blood, it would be the hight of what I could expect of them.
Turns out that family ties are stronger than I expected. They have organised a complete plan for us, having taxi picking us up from the airport to takes us to their home, then lunch, then with train from Vienna to Salzburg to visit the other branch of the family, then dinner at a place my father went to when he was there on holiday in his youth, and then lunch at a country inn the next day, all the time staying with them. I am overwhelmed by their kindness, and looking forward to actually meeting them.
After four days of family visits, I continue on from Salzburg to Basel to proform with the talented Indian singer Santwana Karr and the Iranian composer and pianist Morteza. I will tell Rhythm of Tango and another story aimed at an adult audience. There will be wine and candle light, and I can already feel the good vibrations this event will generate.