It was midwinter, when I bought two tickets to Eddie Izzard's show at the Eden Project in Cornwall. I could have seen his show in Denmark, but it was the perfect excuse to travel to Cornwall again. Cornwall equals breathtaking beauty to me, and cream tea with scones, clotted cream and jam. So with the tickets being half prize compared to Denmark, I decided to go and have a short working holiday.
I started off in Par fo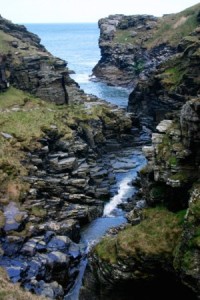 r one night, with Pam and Vic at Emm's Cottage, which has a tiny garden. Sometimes I feel my garden is too small for all the things I wish to have in it. I want a pond, a pergola, lots of different flowers and trees, a conservatory, a small garden annex, where I can sit and write. All of this Pam and Vic have in their tiny garden. It has no lawn, but paths winding through the flower beds, under the pergola, to the small wood consisting of a bonsai pine, that once broke out of its' pot and grew tall and strong, and the hedge to the perennials and a terrace. From the garden annex you can see the sea and enjoy the exuberant clematis. A place shielded from view and very inviting on a summer's day. So I shall now never complain that my garden is too small, instead I will diminish the size of the lawn and make more room for flowers.
The next five days I walked from Penzance to Mawnan Smith along the South West Coastal Path, also know as the SWCP. Walking alone gives me time to think and relax, time to stop and sketch the rock formations in the azure blue sea, the seagulls – posing in hope of a bit of my lunch –, and then walk on it the fair hope, that I will find somewhere nice to sleep during the night.
I got one blue toenail, two blisters, and a bruise over my left knee. Measuring the success of a hike in the amount of scrapes makes my inner child feel very adventurous.
The second ticket for the Eddie Izzard show I had bought, because I was sure to meet someone who would love to join me. My friends in Britain did not want to, or could not come, so for five days I said
to all the people I meet, – and found interesting enough to spend some hours with –, if they wanted to come along. It was not until the very day of the show, that found my "partner in crime". I found her in Truro.
Strolling along the streets of the cathedral city, I noticed a narrow alleyway. It was just after midday and the sun shone down on the white houses. Three women were sitting outside a gallery drinking a cup of tea. Time was abundant, so I went to have a look. Hugh whales on canvas, sketches of nudes, graphic paintings, at least five different artist sharing and working in the small space. One of them Ann, had never seen Eddie Izzard live, and when I mentioned the extra ticket, she looked exactly as I would have, if someone had offered it to me. Very excited. So the ticket was hers. It was a fun and memorable evening, and every time I see Eddie Izzard, I remember: Being imperfect is a quality of its' own.