I create my stories in the now, even those I have told many times before. They are alive, they are not written down or memorised like an actor would do. They live within me, I see them, feel them and therefore I remember them.
Inspiration comes from many different sources. Nature is paramount and the time I spend walking in the woods, over the rolling hills, or along the seashore gives many a story wings. People watching, traveling and talking to strangers and friends all of this inspires me to tell and create stories and give them a life of their own.
I tell stories to adults and children, create stories to meet specific requests. Some are five minuts long others more than an hour.
If you want me to tell you a story, do not hasitate to call me or send me an e-mail
Rythm of Tango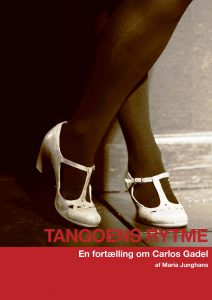 Rythm of Tango is a story based on the life of Carlos Gardel. He is commonly known as The King of Tango, and was the man changed tango music into what it is today. The story takes us to Toulouse, where Carlos is conceived to the beat of the drums and the scent of perfume in the middle of the frivolity of the carnival – over the Atlantic to Buenos Aires where he grows up and soon becomes the reknown for his great voice, and gives the maybe true story of why he gave tango music a voice and for changed it from being light and happy, to being music of longing and melancholia.
A story about desire, aspiration and inspiration.
30 minuts.
Coincidence Repeated
Nanna has not kissed a man in three years, dispite being beautiful, clever and fun. Her friends tells her to settle for less, but she want's it to be perfect.
10 minuts aprox

The Woman Who Collected Signs
A magical realistic story about Sølvig, who one evening finds an old and rusted B in a puddle. As she is about to throw it away a man turns up with an upright bass. "Don't throw it away – it is a sign that you should meet me." He says and smiles. Time passes and she finds one sign after the other, but for every sign she finds, a house in the city crumbles and one day she finds herself all alone…
30 minuts
Rainforest and Desert
Rainforest and Desert is a compilation of stories, which have their roots in my travels in Latin America. They are stories of human destinies, courage and kindness to stranger travelling alone.
30- 90 minuts, according to your wishes.
Nanna and El Dueñde
A magical-realistic story about how wrong things can turn out, when a strongheaded nordic girl goes on adventure, and pays no heed to the locals' advice.
25 minuts
Walter's longing for Sif
Walter has been widowed and misses the daily rutines with his wife. One night he wakes up after a strange dream of young, beautiful girl called Sif. He does not know her, but after dreaming about her three nights in a roll – every time the same dream where they meet in a bar in Berlin – he drags out the dust covered suitcase and goes on the first journey in years.
20 minuts
All the above mentioned stories are made by me. Apart from these stories I also tell a lot of other stories, some which are my own, others originates from legends and myths from Latin America and the large universe of Gypsy tales.
If you have special requests, please do not hasitated to contact me, as I do create stories to fit specific topics and occasions.